The training for vocal and instrumental teachers sponsored by the Netzwerk Musikhochschulen of Germany took place over 4 weekends in the Cologne Musikhochschule.  It was enthusiastically attended and brought a lot of inspiration for us all!
Stay tuned for more workshops!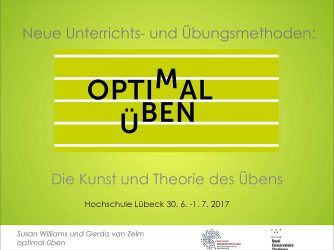 What's new? The publication of Quality Practice/Optimal Üben was kicked off with a workshop for teachers and students at the Hochschule Lübeck where I was joined by colleague Gerda van Zelm. Lots of engagement, interaction and ideas for the future! More...